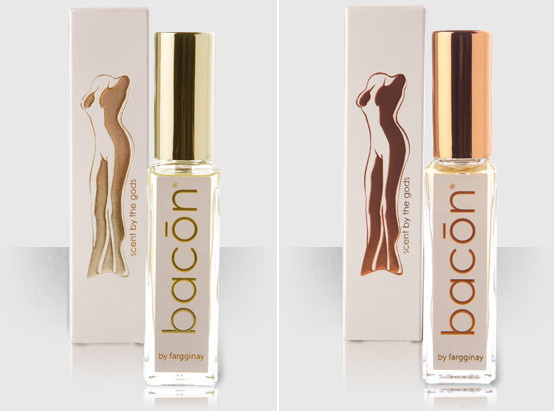 Stop in the name of....bacon. Someone please tell me this is a belated April Fool's joke. I'm seriously so grossed out, but if the boyfriend had his way I would be drenched in this 'scent' 24/7. I really can't think of anything worse. I hate bacon. But for reals, is this real?
Here is the press release courtesy of The Huffington Post:
"...bacōn is a passion project mirrored after one of the 20th Century's greatest legends. The Legend of Fargginay began in 1920 when quite by accident John Fargginay, a Parisian butcher discovered the ability to dramatically elevate his customers' mood with a secret recipe blending herbs & essential oils with the essence of...bacon. As the story goes, film stars & heads of state would frequent his shop to procure the magical elixir. With a wink of the eye and the secret code, "fargginay," customers would be slipped a discreet pouch containing the formula said to trigger pleasant memories. After a massive fire on July 4, 1924, the business was lost and so was the formula...Until now."